Home Insurance in Grand Island and Cairo, NE
Protecting Homeowners in Grand Island and Cairo, NE
Home ownership is great for many reasons, including that it gives one a sanctuary and provides a venue for creating terrific memories. Owning a home has risks however, and these risks can result in significant out-of-pocket costs to a homeowner if the risks are un-mitigated. Insurance can mitigate these risks and keep a homeowner secure. At Pathway Insurance Agency, we provide insurance that does this and we offer a wide variety of policy selections from our extensive home insurance program.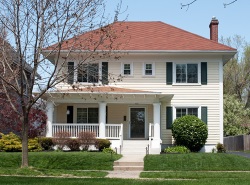 Our coverages are broad and our packages are flexible. We tailor each policy to the needs and budgets of individual homeowners, and we work clients to make sure that the policies we write deliver the most value.
Coverages Tailored to Your Needs
As a homeowner you may be fully aware of what you need to protect, but how to protect it may unknown to you. It may seem as if broad coverages do the trick and that all-encompassing insurance that fits any homeowner is the way to go. This is unfortunately not so; you need protection that is unique to you, even if it involves insurance coverage that most other homeowners have.
We bring to the table a firm expectation that we find you the right solution. This means identifying coverages that are appropriate for your unique situation and striking the right balance of coverage and cost. We do these things by working with you closely, matching your exposures with appropriate coverage options, and establishing the right limits, rates, and deductibles. Foremost of these efforts is identifying the right coverages, which we source from numerous A-rated carriers.
Our coverage options include:
· Property Insurance
· Homeowners Liability
· Renters Insurance
· High-value and/or specialty items
· Condo Insurance
· Mobile Home Insurance
· In-Home Business Insurance
The above coverages are just a taste of what we offer. Endorsements and amendments are available as well. Through a thorough examination of your situation we will identify the coverages you need and work with you to arrange these coverages in an ideal plan.
Working with Pathway Insurance Agency
As insurers we are responsible for not only providing ideal solutions to clients but for helping clients avoid reasons to use their insurance and for helping clients use their insurance in the best ways, if and when usage becomes necessary. This means that we manage risk and claims in addition to writing policies.
We manage risk by helping clients identify and employ best practices, which reduce the exposures that clients face and diminish the likelihood that exposures result in damages. To manage claims we advocate for clients and help them achieve suitable resolutions if and when claims are filed. These efforts ensure that value is maximized and that having and using insurance are not solo acts that clients perform.
We're local agents and have decades of experience insuring homes and homeowners in Central Nebraska. As a result, we are better able to provide solutions than captive or non-local independent agents. Even other local agents can't hold a candle to us, as we analyze clients' needs, values, net worth, limits, and liabilities in ways that yield greater amounts of information and more specific information than other agents get. We use the information we have to carefully craft solutions that reflect clients' best interests for the absolute lowest overall costs. We do this unyieldingly in tandem with providing superior client support. The value of these efforts combined cannot be matched.
If you would like to know more or speak with an agent, please contact us in Grand Island or Cairo or give us a call. You can also request a quote if you'd like to discover some of the details of a policy.

Pathway Insurance Agency is proud to provide home insurance in Grand Island, Cairo, Ord, Burwell, Wood River, and Ravenna, NE. We also serve other areas in the state.
Related Products: